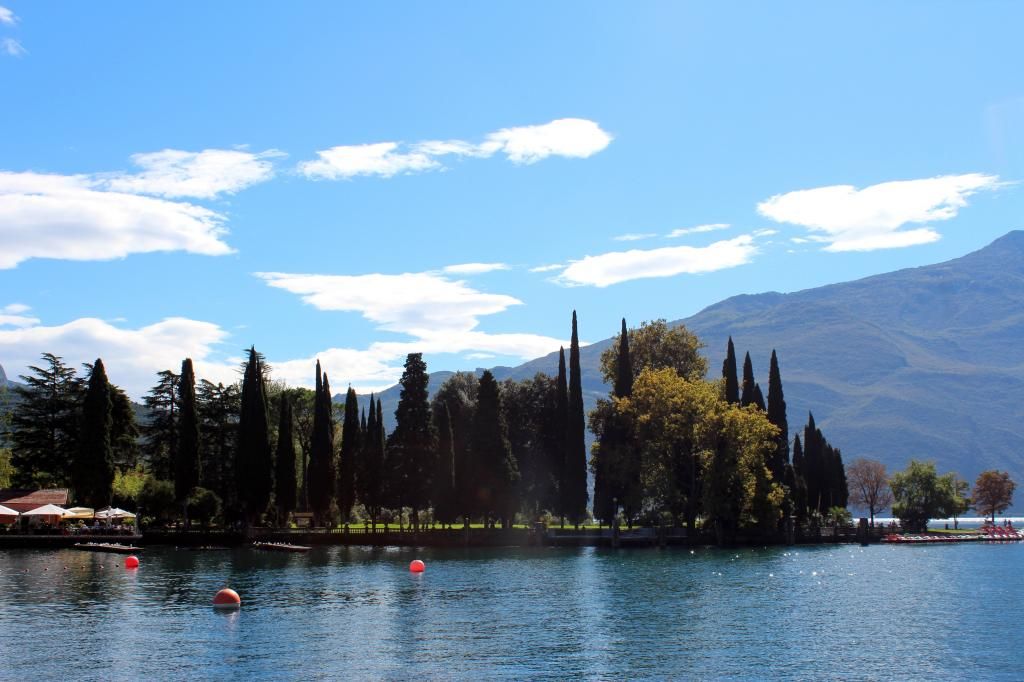 Riva del Garda. Never heard of the place, never would have imagined it to be so beautiful. But then again, what do you expect in Italy. Anyways, we stopped there to meet H's Godmother, who had been super helpful planning our trip and everything. The stop couldn't have come in better time, since H had just been sick in Firenze and was in desperate need of relaxing. And just as we though, we had left the stomach bug to Firenze.... I got sick. So I spend a lovely day from the bottom of our hosts bed, as they went sightseeing. At least it was a really nice bed.
As far as I understood, there is really no trains coming to Riva del Garda, but to our fortune trains do stop in town called Roverto not too far away and we got a ride from there. That was actually the first time in almost four weeks that we sat in an actual car instead of public transport. And the first time in four weeks that we got a homemade meal. Yummy Frutti di Mare pasta ala real Italian man.
We were told that towns of Garda are especially loved by windsurfers, skuba divers and mountain bikers. I can definitely confirm that, they were everywhere. Otherwise the town was very calm and there wasn't too much people. Definitely a place of relaxation. Unfortunately, we had no time (or the money) to try anything new and exiting. Especially as I got sick right after our stroll around the city.
Next day I was feeling little bit better (at least till we got to Venice later). So H's Godmother took us to her favorite place for some real Italian trout. Without even looking at the menu she ordered us portions of trout, fried potatos and salad. Tiramisu for dessert. After that lunch climbing to see Cascata del Varone was especially hard, so full. But very much worth it.
I have not seen many natural waterfalls in my life, so I cannot say much, but in my opinion it was beautiful. And somewhat interesting to see what nature can do. It would have been a great place for anyone loving plants, since the garden around the falls was very rich. Unfortunately the light inside the cave was so bad that taking pictures was super hard. And made even harder since I did not take my camera with me to lunch, which meant a lot of iPhone pictures. My apologies.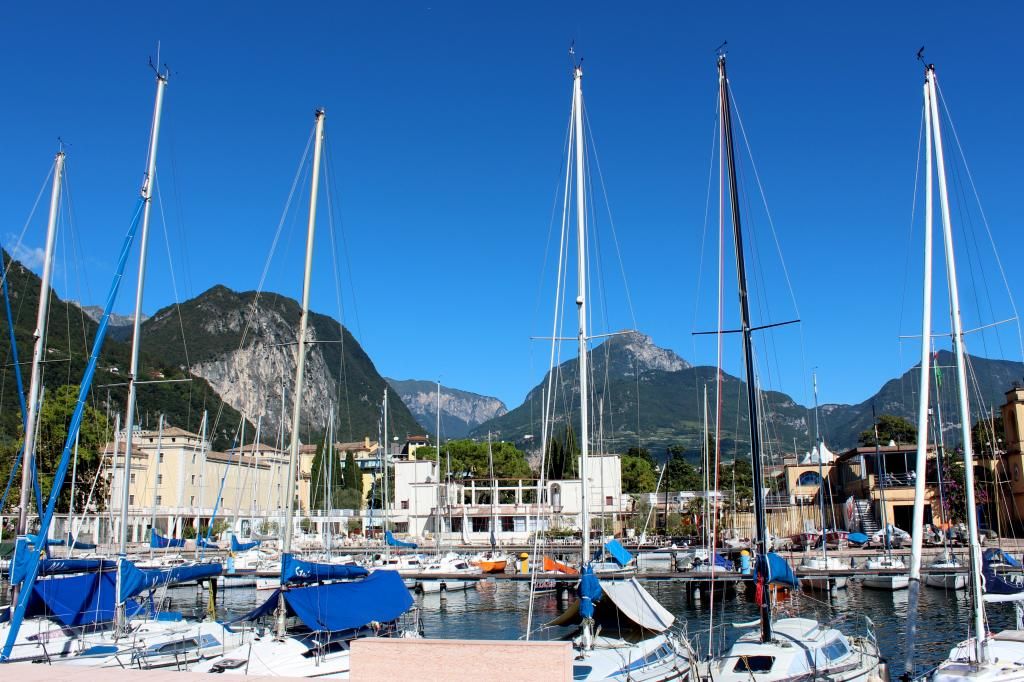 Riva del Garda. En olisi ikinä arvannut kuinka kaunis kaupunki voisi olla. Toisaalta, mitä muutakaan Italialta voi odottaa. Jokatapauksessa, pysähdyttiin Rivaan vierailemaan H:n kummitädin luona, joka oli auttanut meitä suunnittelemaan reissua, erityisesti tarjoamalla hyviä Italian vinkkejä. Paussi ei olisi voinut tulla parempaan aikaan sillä H oli juuri ollut kipeä Firenzessä ja molemmat kaivattiin hiukan hapen vetoa. Ja juuri kun ehdittiin jo luulla että mahapöpö oli jäänyt Firenzeen... Minä tulin kipeeksi. Joten vietin koko ihanan päivän sängyn pohjalla, kun muut lähtivät katselemaan paikallisia nähtävyyksiä. Ainakin sänky oli super mukava.
Ymmärtääkseni mikään juna ei tule suoraan Riva del Gardaan, mutta onneksemme saimme kyydin lähimmältä asemalta Rovertosta. Oikeastaan automatka oli erittäin rentouttava ja ensimmäinen neljään viikkoon, sillä koko reissun ajan oltiin lähinnä käytetty vain julkista liikennettä. Rivassa meitä odotti myös ensimmäinen kotitekoinen illallinen neljään viikkoon: Frutti di Mare pasta ala italialainen isäntämme.
Meille kerrottiin myös että Garda-järvi on erityisesti purjelautailijoiden, laitesukeltajien ja maastopyöräilijöiden rakastama. Voin ehdottomasti vahvistaa, urheilijoita oli kaikkialla. Muuten kaupunki oli todella rauhallinen ja hiljainen. Ehdottomasti paikka rentoutumiseen. Valitettavasti meillä ei ollut aikaa (eikä rahaa) kokeilla mitään uutta ja jännittävää. Varsinkin koska tulin kipeäksi heti kaupunkikierroksen jälkeen.
Seuraavana päivänä, hiukan paremmassa hapessa (ainakin Venetsiaan asti kestävässä), päätettiin lähteä H:n kummitädin lempiravintolaan syömään aitoa italialaista taimenta. Ilman vilkaisuakaan meille tilattiin annokset taimenta, paistettuja perunoita ja salaattia. Tiramisua jälkiruuaksi. Cascata del Varonelle kiipeäminen sen annoksen jälkeen oli todella vaikeaa, mutta ehdottomasti sen arvoista.
En ole ikinä elämässäni nähnyt niin kauniita ja lumoavia vesiputouksia. Ei sillä että olisin monia nähnyt. Kasvirakastajille tämä paikka olisi ollut erittäin kiinnostava, sillä puutarha vesiputouksen ympärillä oli todella runsas. Valitettavasti luolassa oli niin pimeä että oli aivan mahdotonta ottaa kuvia, varsinkin kun olin jättänyt kamerani lähtiessäni.