Kaksitoista vuotta koulua takana (toistaiseksi), niistä alle kaksi olen käyttänyt koululaukkunani jotakin muuta kuin reppua. Oon ihan sisimpääni asti repputyttö. Mun reppujen evoluutio alko söpöstä Nalle Puh repusta, jonka sain ensimmäisenä koulureppunani ekalle luokalle. Sen jälkeen oon selässäni kantanu muun muassa maailman kauneinta mustaa Roxyn reppua, jota koristi kukkakuvio, vähemmän onnistunutta Quicksilverin turkoosi-pinkkiprinttistä reppua ja mustaa Quicksilverin kangasreppua. Mutta kaikista parhain ikinä on reppu, jonka ostin lukion toisella luokalla, metsän vihreä Fjällrävenin
K
ånken.
Parhain kesä ikinä saattaapi myös olla edessäni (musta tuntuu et kesistä tulee vaa vuosi vuodelta parempia), joten ajattelin että olisi vain soveliasta hankkia kesään sopiva rinkka. No ei, oikeasti rinkka tulee tarpeeseen. Tästä kesästä on meinaa tulossa mah-ta-va. Kesäisimmän kesätyöni Korppoon Saaristokeskus Korpoströmissä työskentelyn jälkeen piipahdan Weekend festareilla, joidenka jälkeen... Rumpujen pärinää... Lähen Interrailaamaan! Ja Interrailausta ei kyllä voi tehdä ilman kunnon rinkkaa.
On niiiiiin monta vaihtoehtoa kun lähtee valitsemaan rinkkaa että omakin pää meinas aluksi mennä sekaisin. Ekaa kertaa kuitenkin kun olin tiirailemassa tarjontaa omat silmäni osuivat Kajkaan. Juuri niinkuin alkuperäinenkin reppu Kajka vaan oli söpömpi ku mikään muista rinkoista. Tajusin kuitenkin että eihän sitä rinkkaa ulkonäön perusteella osteta ja avasin mieleni mahdollisuuksille. Hetken odottelun jälkeen pääsin sitten vihdoin tosi toimissa valitsemaan sopivaa rinkkaa. Tällä kertaa ammattilaiselta pyydettiin apua.
Heti kuitenkin saatuani sanan "interrail" ulos suustani myyjä poimi rinkkojen joukosta Kajkan. Tämä sen takia että Kajka on todettu hyväksi interrail rinkaksi sen matkalaukkumaistenkin ominaisuuksien johdosta. Kajka meinaa aukeaa, toisin kuin muut rinkat, koko pituudeltaa. Ei tarvii sukeltaa koko kädenmitalla rinkkaan jos pohjalle valahtaakin just se yks juttu jota oli hakemassa. Myös pakkaaminen ja purkaminen on ison aukon johdosta superhelppoa. Joten lyhyen muiden rinkkojen pällistelyn jälkeen Kajka lähti mukaan, metsän vihreänä tietenkin.
Kiitus isälle!
♥
Voisin jatkaa rinkan ominaisuuksista vaikka kuinka kauan (okei, oon ehkä hippasen liian innoissani repusta) mutta säästän teidät siltä ja annan vain linkin.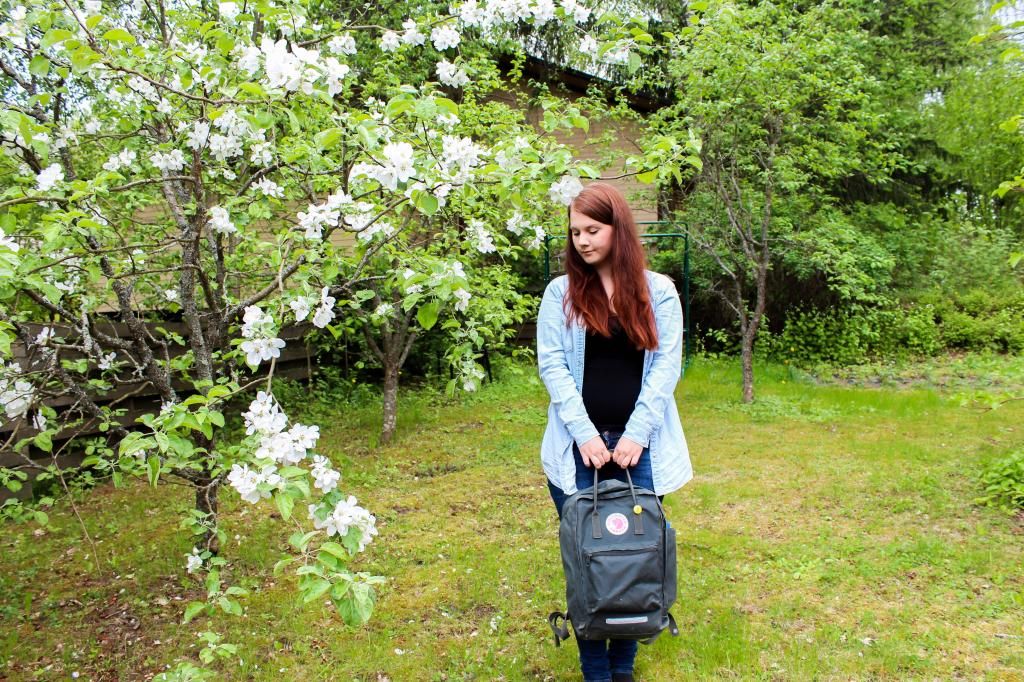 In my 12 years of school (so far) I have only used less that two carrying a bag. I'm to my core a backpack girl! The evolution of my backpacks started from a cute Winnie-the-Pooh backpack, which was my very first schoolbag. From there forward, I have had for example the most beautiful black Roxy backpack with floral print, unfortunate Quicksilver pink and turqoise one and a lovely quicksilver black fabric backpack. But one to rule them all has been my Forest Green Fjällräven K
ånken.
This summer might become the summer to rule them all as well (I feel like summers are just getting better and better) so I thought it would be fit to get a Fjällräven technical (rinkka in Finnish) back as well. No, just kidding, I actually need one. Because what makes this summer soooo awesome is that after I have the most summery summer job in the Turku Archipelago at Archipelago Center Korpoström I will pop at Weekend Festival and then... Drum roll... Go InterRailing through Europe! and you cannot properly interrail without a proper backpack.
There are so many options to choose from when choosing a techinal backpack, but the first time I ever went to see one, I fell in love with Kajka. Just like the original backpack, it was just cuter than anything else. What I realized already back then was that you cannot really choose your backpack based on how it looks like. So I waited for a while and went back to the store with intentions to ask professional help in choosing the perfect backpack.
Right when I uttered the word "Interrail" the salesman picked up Kajka 65. This was because Kajka has features that resemble suitcases, such
a large vertical opening in the front which makes loading and unloading the backpack much easier. So after a short introduction to other techicals I was very sure that Kajka would be the one I wanted, in Forest Green again. Thank you Dad!
♥
I could go on and on about the amazing functions of Kajka for a long time (I might be bit too excited about a backpack) but I will spare you the trouble of reading it and just give you this link.