At least I'm trying my best. I have been hesitating to publish this post for a long time. No worries, I will not turn this blog into a fitness blog, but it will remain the same but just have little bit of this side of my life too. The side I have not yet categorized as good nor bad. I have sort of a love-hate relationship with training. Once I get into it (every once in a while), I reaaaaally get into it. But too many times, I really hate it for various reasons.
Firstly, I think going to gym, especially alone, is really boring. Yet I do not really enjoy myself when accompanied by someone, because they usually make me feel like a lazy loser. This problem I have cleared by taking part in group-fitness classes (also
alone)
. I don't have to be embarassed by people I know and it for sure will not be boring, as there will be someone constantly telling you what to do. Also you don't really have time to think how unconfortable sweating and the gym clothes are. And when I do feel unconfortable, I'll just try to remember the quote my friend put on my personal training program: "get comfortable , by feeling comfortable"
Ainakin yritän parhaani. Oon viivitylly tän postauksen kanssa tosi kauan. Jos homma alkaa sujumaan, niin varmaan siitä tuun kirjottelemaan täälläkin vähän enemmän. Mut ei hätää, en ole aikomassa muuttaa blogia miksikään fitness-blogiksi, mutta mahdollisesti tätäkin puolta saattaa hiukan vilahtaa sieltä täältä. Puolta jota en oo vielä ees oikeen osannut kategorisoida huonoksi tai hyväksi. Mulla meinaa on aikalailla viha-rakkaus-suhde urheiluun. Kun oikeen pääsen siihen kiinni, mä todellakin oon siinä kiinni. Mut yleensä, vihaan sitä monesta syytäkin.

Ensinnäkin, musta salille meneminen erityisesti yksin on todella tylsää. En kuitenkaan tykkää myöskään mennä kenenkään kanssa, koska yleensä tulee vähän laiska luuseri-olo. Oon kuitenkin keksinyt ratkaisun tähän ongelmaan, ryhmäliikunta, yksin. Ei tarvii nolostella tuttujen kanssa ja varmasti ei tule tylsää kun koko ajan on joku kertomassa mitä seuraavaksi tehdään. Myös mun inhoamat hikoileminen ja jumppa-/salivaatteet unohtuu siinä. Ja kun musta tuntuu epämukavalta syystä tai toisesta, yritän vaan muistella kaverin mulle antamaan lainausta "get comfortable , by feeling comfortable" (en keksinyt oikeen luontevaa käännöstä tälle)
Nike traning shoes - Intersport
|

Hairbrush - Tiger
Secondly, my joints were not build for sports. Whenever I start to get serious about exercising regurlarly one or several of my joints will put end to it. Usually it is my fingers and wrists, especially in ball sports, then comes knees and ankles. Especially sports like volleyball and basketball are not really enjoyable when you get three day's horrible pain from it. I'm all the time, however, discovering new ways to avoid this little problem. For example swimming and water running are two amazing and fun sports I do weekly to relax my joints.
Toisekseen, mun nivelet ei oo yhtään tehty urheilemiseen. Aina kun alotan kunnolla urheilemaan mun nivelet pistää stopin sille. Yleensä ekana pamahtaa ranne tai sormi, erityisesti palloilulajeissa, sitten tulee polvien ja nilkkojen vuoro. Erityisesti lentopallo ja koripallo ei oikeen oo nautittavia, kun niitä seuraa muutaman päivän nivelkipu. Oon kuitenkin pikkuhiljaa löytäny erilaisia keinoja vältellä tätä ongelmaa. Esimerkiksi uiminen ja vesijuoksi on kaks ihan mahtavaa ja hauskaa urheilumuotoa, joita teen viikoittain vähän rentouttaakseni niveliä.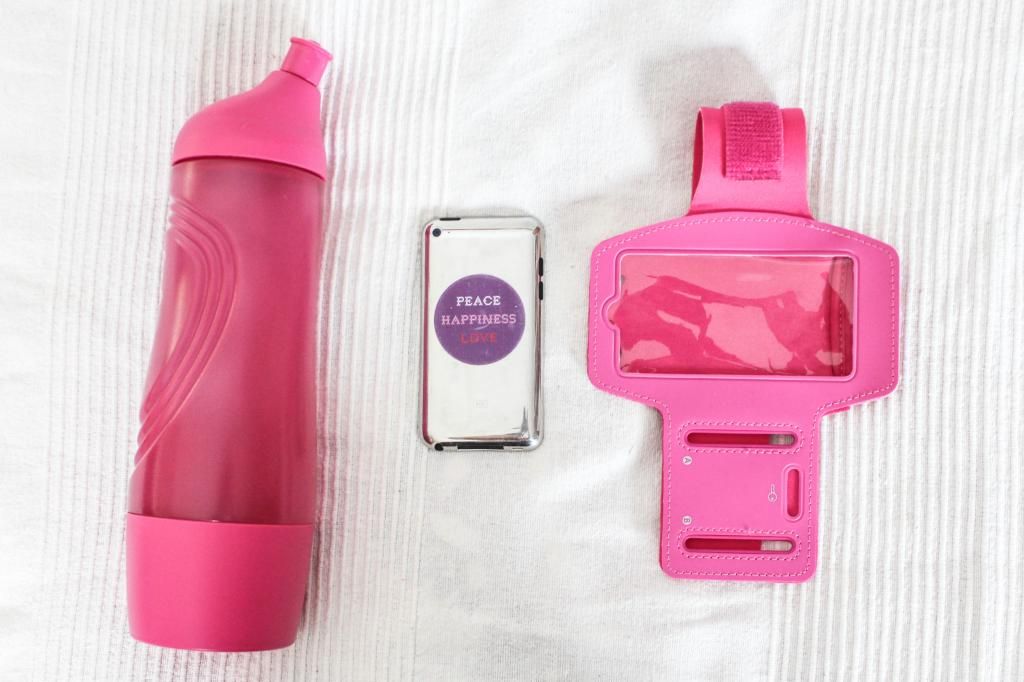 Bottle- Tupperware
|

iPod sticker and armbad holder - Tiger
Lastly, everything is soooo far away and I'm just too damn busy, and eating sweets is just so lovely. Well, this will be solved as my IB career has come to its last steps. No more deadlines and horrible hours of work. Just studying, eating healthy (at least to some extent) and working out. Meaning my route will go from home via library to the gym.
Viimeseks, kaikki on vaan niiiiin kaukana ja oon vaan ihan liian kiireinen, ja herkuttelu on vaan niin ihanaa. Tai siis, olin. Tää ongelma on oikeastaan nyt hetkellisesti ratkastu sillä että mun IB-ura on vihdoinkin ihan viime metreillään. Ei enää yhtäkään inhottavaa deadlinea ja hirveitä työtunteja. Vaan opiskelemista, terveellistä ruokailuu (ainakin mahdollisimman) ja treenausta. Tarkoittaen et mun reittini alkaa pikkuhiljaa kulkemaan reittiä: kotoa kirjaston kautta salille.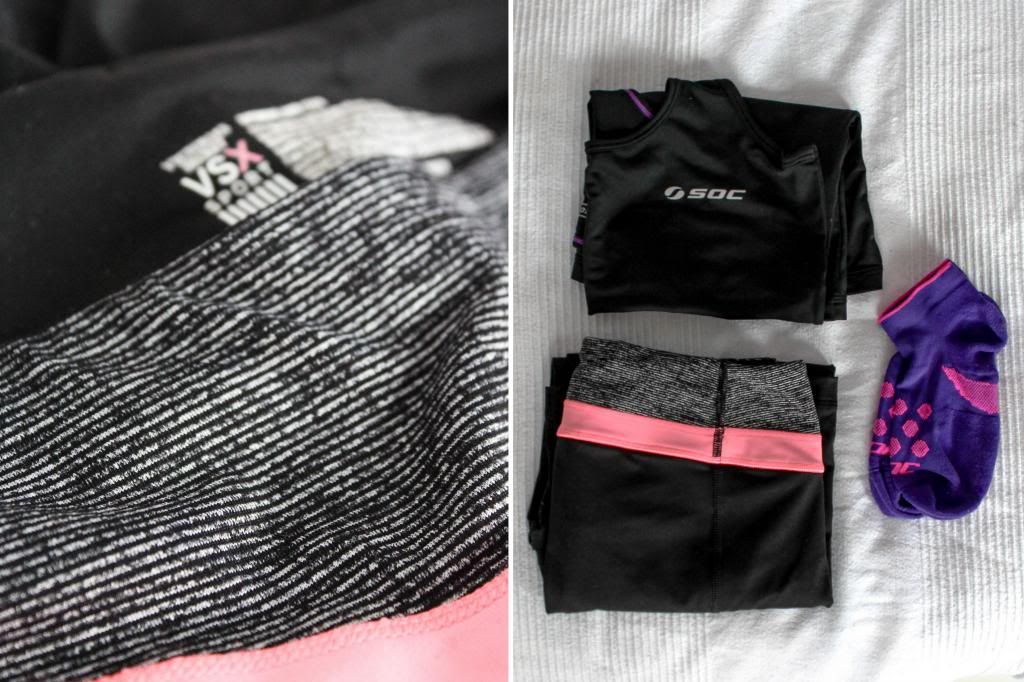 Yoga/trainingpants- Victoria's Secret
|

Soc top and socks - Stadium
In addition to getting in group-fitness, I motivate myself with material! As you can see. Cute training clothes and bag can really make whole lot difference when you really don't feel like going to a gym. Where else would you wear them then and not look out of place?
Also just a really nice shower gel and deodorant can make difference on how you feel after the workout. I for example looove to pack some really nicely smelling things and relax a moment in a shower after workout. Make it just a tad more special.
Sen lisäksi että motivoidun ryhmäliikunnasta, oon materiaalista motivoituva ihminen! Kuten näkyy. Söpöt treenivaatteet ja laukku voi tehä tosi suuren muutoksen, kun ei yhtään huvittais raahautua salille. Missä muuallakaan sä käyttäisit niitä näyttämältä ihan hölmöltä?

Myös tosi kiva suihkusaippua ja deodorantti voi tehä just sen eron salilla käymiseen minkä tartteet. Esimerkiksi mä tykkään pakata jotain ihanan hyvänhajusta vaan treenilaukkuun ja rentoutua treenin jälkeen hetken suihkussa. Tehä siitä vähän spesiaalimman.