The adventure from Riomaggiore did not continue without problems. As a little town, it seemed that the place had its own rules. Our favorite place said to be opened from 8 a.m. and we decided to eat some breakfast in it. With our backpacks ready and noses headed towards leaving we realized the place was not open. Wonderful. Nothing to eat and train leaving in an hour. Grabbed something from the store and went back to the hotel room to eat it. As usual we arrived to the train station well in advance, this time only to realize that our train was 20 minutes late. Second wonderful of the morning. In the end our train was almost 1,5 hours late and we had crappy breakfast.
Arriving to Pisa was like arriving to ghost city. The train station was closed, sun was shining in its full power and all we could see was dead grass and sand. Thanks to the modern technology we quickly googled our route to the Square of Miracles, which was quite literally on our way was we were planning on changing trains in Pisa and in the process also change train stations. Square was located right in between them.

Seikkailu Riomaggioresta eteenpäin ei sujunut ihan ongelmitta. Pienenä kaupunkina Riomaggiorella näytti olevan ihan omat sääntönsä. Meidän lemppariruokapaikka nimittäin sanoi aukeavansa kahdeksalta, jonka takia päätimme suunnata sinne aamupalalle. Rinkat valmiina ja nenien menosuunnat kohti junaa, tajuttiin kuitenkin ettei aamupalapaikka ollutkaan auki. Ihanaa. Ei mitään syötävää ja juna lähdössä tunnin päästä. Napattiin sitten mini supermarketista jotain ja mentiin hotelliin syömään. Kuten tavallista, juna-asemalle saavuttiin hyvissä ajoin. Tällä kertaa vain huomataksemme että juna oli 20 minuuttia myöhässä. Toinen ihanuus jo sinä aamuna. Lopulta juna sitten saapui ja lähti puolitoista tuntia myöhässä.

Pisaan saapuminen oli kuin olisi saapunut kummituskaupunkiin. Juna-asema oli suljettu, aurinko porotti hulluna ja kaikki mitä nähtiin oli santaa ja kuollutta ruohoa. Kiitos modernin teknologian saatiin kuitenkin googlattua reittimme Ihmeden aukiolle, joka ihan kirjaimellisesti oli meidän matkan varrella kahden juna-aseman välissä.
We came, saw the Leaning Tower, sweated like little pigs, ate the cheapest 3 course meal of our trip and left. Pisa was very Italian. And the train was late of course. We arrived to Rimini in early evening and as usual walked to our hostel, called the Jammin' Rimini Party Hostel near the beach.
Rimini wasn't on our original plan. We actually realized on our way to Italy that we would be spending a lot of time in some places which could be hard on our wallets. At the same time I realized that our friends were coming to Italy. Rimini to be exact. As we did have some spare days to use, we decided it would be awesome to spend them with them. So we headed half-spontaneously to Rimini, which we knew nothing about.

Tultiin, nähtiin Pisan kalteva torni, hikoiltiin kuin pienet possut, syötiin koko reissun halvin 3 ruokalajin lounas ja lähdettiin. Pisa oli todella italialainen, ja siihen kuuluvasti juna oli myöhässä. Saavuttiin Riminiin alkuillasta ja kuten tavallista käveltiin hotellille kilometrin matka. Jammin' Rimini Party Hostel oli tosi lähettä rantaa.

Rimini ei myöskään kuulunut meidän alunperäiseen suunnitelmaan. Oikeastaan vaan hokattiin että meillä on pari ylimääräistä päivää pakoissa, jotka olis varmasti ottanut meijän lompakkoja koville. Samaan aikaan tajuttiin että meidän kaverit Suomesta oli tulossa lomailemaan Italiaan. Riminiin tarkalleen. Päätettiin siis suunnata samaan kaupunkiin ja viettää muutama päivä heidän kanssaan. Eli suunnattiin puolispontaanisti Riminiin, josta ei tiedetty juurikaan mitään.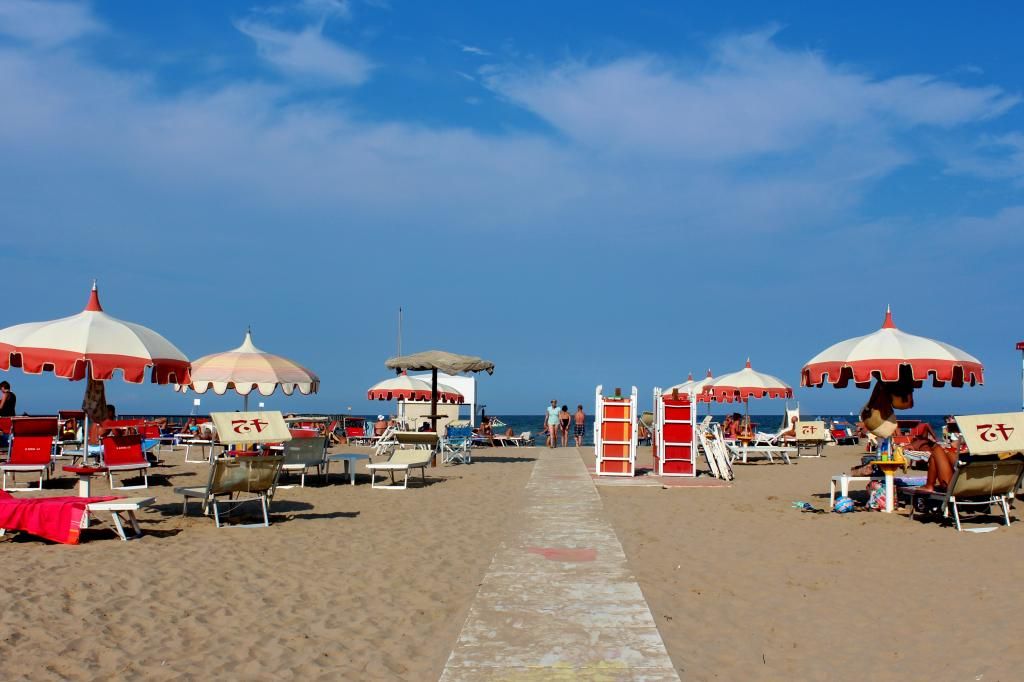 Rimini itself uncovered to be pretty boring for a tourist not fond on sunbathing. And especially boring on low-season such as August. With the friends we made at our hostel and our Finnish friends we headed to the only club open that weekend, Carnaby. Okay at off-season and with great friends. Next day greeted me too hot, too hung-over and too tired. However, luck was on our side as the most coolest thing ever was happening in Rimini that weekend.
Gelato World Tour
.
Rimini itsessään osottautui melko tylsäksi, varsinkin meille auringonpalvontaa välttäville. Erityisen tylsän mestasta teki myös matalasesonkiaika. Uusien hostellissa tavattujen tyyppien ja kavereitten kanssa lähettiin kuitenkin kaupungin ainoalle aukiolevalle klubille, Carnabylle. Ja seuraava päivä sitten tervehtikin mua sitten aivan liian kuumana, krapulaisena ja väsyneenä. Onni oli kuitenkin meidän puolella meinaa samaisena viikonloppuna kaupunkiin oli saapunut Gelato World Tour!
This meant that we got to taste and taste and taste some of the world's best Gelatos for only 7 euros per person. And oh we did. To the point of feeling sick. I was especially amazed with the different tastes that you can actually put in Gelato. It was definitely not the ordinary strawberries and chocolate, but it was Madagascan chocolate, pistachios, roses, lime, basil, orange... Then we voted our favorites. My favorite actually won,
Cow and the Moon
's gelato stole my heard and made me wish for trip to Sydney.
Tää yhteensattuma siis tarkoitti että päästiin maistelemaan ja ihastelemaan maailman parhaita Gelatoja vain 7 eurolla. Ja niin me tehtii, niin kauan että oltiin aivan ähkyssä kaikki. Olin erityisen hämmästynyt siitä kuinka monenlaisia erilaisia makuja Gelatoissa oli. Todellakin jotain aivan muuta kuin tavalliset mansikka- ja suklaasetit. Madagascarilaista suklaata, pistaaseja, ruusua, limettiä, basilikaa ja appelsiini. Viimeiseksi äänestettiin omaa lemppariamme. Mun lemppari itseasiassa voitti, Cow and the Moon, sai mut haikailemaan yhä enemmän matkaa Ausseihin.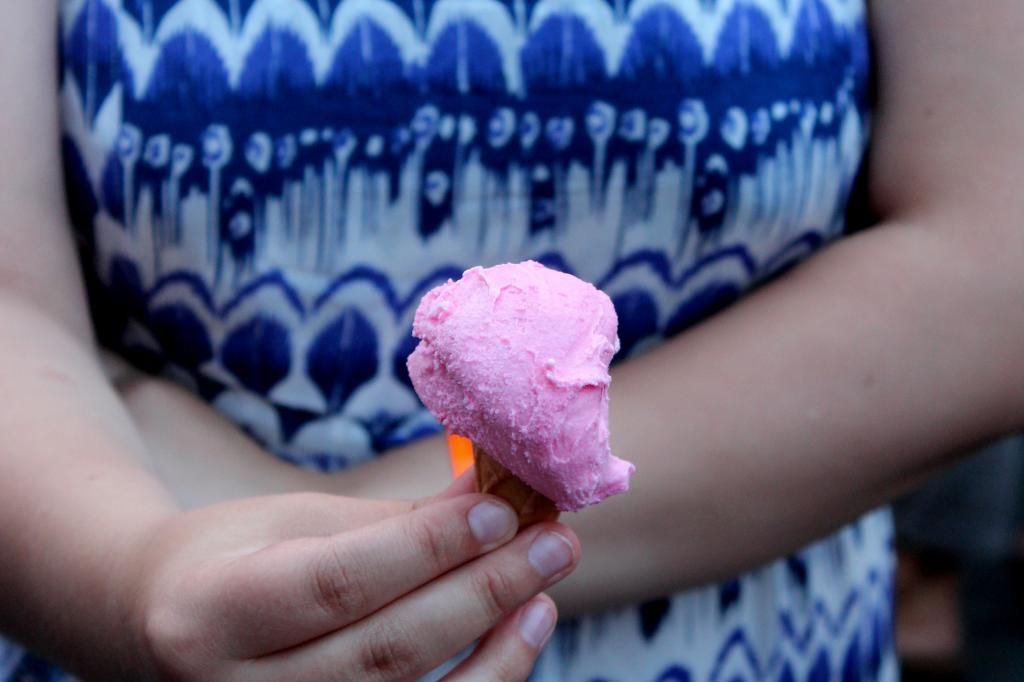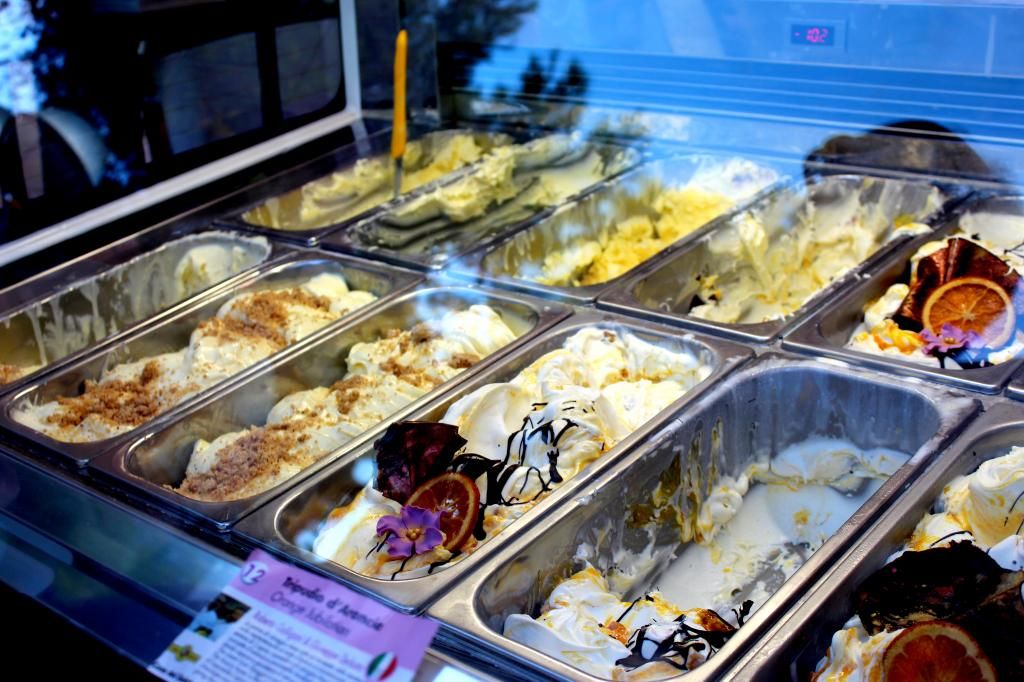 Next day, in little bit better condition, we decided to accompany our friends to San Marino. Also not in our original plan but strongly recommended by many. And I'm glad we did, the city/country was very pretty and we can say that we traveled through seven countries.

Seuraavana päivänä, hiukan paremmassa hapessa, suunnistettiin kavereiden kanssa San Marinoon. San Marino ei myöskään kuulunut meidän alkuperäiseen suunnitelmaan, mutta sitä kehuttiin ja ehdotettiin meille niin monesti että päätettiin lähteä sinne kaikki yhdessä. Ja onneksi mentiin, kaupunki/maa meinaa puolipäivämatkan arvoinen ja nyt voidaan sanoa että käytiin seitsemässä maassa.